FIFA World Cup 2018 Schedule PDF Pacific Time [US, Canada]
Football biggest sports event Fifa world cup 2018 is going to start from mid of June 2018. 32 teams are qualified for 2018 Fifa world cup. All 32 teams are divided into 8 groups. Total 64 matches will be played at 12 Venues. Russia is the host country of football world cup 2018. In this article, you will find FIFA World Cup 2018 Schedule Pacific Time [US, Canada]. Here you will get all details of 2018 football world cup fixtures, Football world cup Time Table PDF, Printable Chart, or in Calendar format. Get other fifa world cup time zones schedule.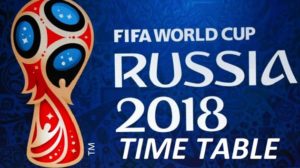 2018 FIFA World cup schedule is basically divided into 2 stages. The first stage is group and second stage is the knockout stage. These stages are divided into 3 more stages round of 16, Quater finals and semi-finals.
Group Stage:
Fifa makes 8 groups for FIFA World Cup 2018 Schedule Pacific Time. Every group has 4 teams in it. Every group has an English alphabet name from A to H. 48 matches will be played in the group stage.
Knockout Stage:
This is a crucial stage for every team in this stage if a team lost 1 match that team will be kicked out from the Fifa world cup Russia 2018.
FIFA World Cup 2018 Match Schedule Time Table
| Match No | Teams | Date | Time | Venue |
| --- | --- | --- | --- | --- |
| 1 | Russia vs Saudi Arabia | 14 June | 08:00 PT | Luzhniki Stadium, Moscow |
| 2 | Egypt vs Uruguay | 15 June | 05:00 PT | Central Stadium, Yekaterinburg |
| 3 | Morocco vs Iran | 15 June | 08:00 PT | Krestovsky Stadium, Saint Petersburg |
| 4 | Portugal vs Spain | 15 June | 11:00 PT | Fisht Olympic Stadium, Sochi |
| 5 | France vs Australia | 16 June | 03:00 PT | Kazan Arena, Kazan |
| 6 | Peru vs Denmark | 16 June | 09:00 PT | Mordovia Arena, Saransk |
| 7 | Argentia vs Iceland | 16 June | 06:00 PT | Otkrytiye Arena, Moscow |
| 8 | Croatia vs Nigeria | 16 June | 11:00 PT | Kaliningrad Stadium, Kaliningrad |
| 9 | Costa Rica vs Serbia | 17 June | 05:00 PT | Cosmos Arena, Samara |
| 10 | Brazil vs Switzerland | 17 June | 11:00 PT | Rostov Arena, Rostov-on-Don |
| 11 | Germany vs Mexico | 17 June | 08:00 PT | Luzhniki Stadium, Moscow |
| 12 | Sweden vs South Korea | 18 June | 05:00 PT | Nizhny Novgorod Stadium |
| 13 | Belgium vs Panama | 18 June | 08:00 PT | Fisht Olympic Stadium, Sochi |
| 14 | Tunisia vs England | 18 June | 11:00 PT | Volgograd Arena, Volgograd |
| 15 | Poland vs Senegal | 19 June | 05:00 PT | Otkrytiye Arena, Moscow |
| 16 | Colombia vs Japan | 19 June | 08:00 PT | Mordovia Arena, Saransk |
| 17 | Russia vs Egypt | 19 June | 11:00 PT | Krestovsky Stadium, Saint Petersburg |
| 18 | Uruguay vs Saudi Arabia | 20 June | 08:00 PT | Rostov Arena, Rostov-on-Don |
| 19 | Portugal vs Morocco | 20 June | 05:00 PT | Luzhniki Stadium, Moscow |
| 20 | Iran vs Spain | 20 June | 11:00 PT | Kazan Arena, Kazan |
| 21 | France vs Peru | 21 June | 05:00 PT | Central Stadium, Yekaterinburg |
| 22 | Denmark vs Australia | 21 June | 08:00 PT | Cosmos Arena, Samara |
| 23 | Argentia vs Croatia | 21 June | 11:00 PT | Nizhny Novgorod Stadium |
| 24 | Nigeria vs Iceland | 22 June | 08:00 PT | Volgograd Arena, Volgograd |
| 25 | Brazil vs Costa Rica | 22 June | 05:00 PT | Krestovsky Stadium, Saint Petersburg |
| 26 | Serbia vs Switzerland | 22 June | 11:00 PT | Kaliningrad Stadium, Kaliningrad |
| 27 | Germany vs Sweden | 23 June | 08:00 PT | Fisht Olympic Stadium, Sochi |
| 28 | South Korea vs Mexico | 23 June | 11:00 PT | Rostov Arena, Rostov-on-Don |
| 29 | Belgium vs Tunisia | 23 June | 05:00 PT | Otkrytiye Arena, Moscow |
| 30 | England vs Panama | 24 June | 11:00 PT | Nizhny Novgorod Stadium |
| 31 | Japan vs Senegal | 24 June | 08:00 PT | Central Stadium, Yekaterinburg |
| 32 | Poland vs Colombia | 24 June | 11:00 PT | Kazan Arena, Kazan |
| 33 | Uruguay vs Russia | 25 June | 07:00 PT | Cosmos Arena, Samara |
| 34 | Saudi Arabia vs Egypt | 25 June | 07:00 PT | Volgograd Arena, Volgograd |
| 35 | Iran vs Portugal | 25 June | 11:00 PT | Mordovia Arena, Saransk |
| 36 | Spain vs Morocco | 25 June | 11:00 PT | Kaliningrad Stadium, Kaliningrad |
| 37 | Denmark vs France | 26 June | 07:00 PT | Luzhniki Stadium, Moscow |
| 38 | Australia vs Peru | 26 June | 07:00 PT | Fisht Olympic Stadium, Sochi |
| 39 | Nigeria vs Argentina | 26 June | 11:00 PT | Krestovsky Stadium, Saint Petersburg |
| 40 | Iceland vs Croatia | 26 June | 11:00 PT | Rostov Arena, Rostov-on-Don |
| 41 | Serbia vs Brazil | 27 June | 11:00 PT | Otkrytiye Arena, Moscow |
| 42 | Switzerland vs Costa Rica | 27 June | 11:00 PT | Nizhny Novgorod Stadium |
| 43 | South Korea vs Germany | 27 June | 07:00 PT | Kazan Arena, Kazan |
| 44 | Mexico vs Sweden | 27 June | 07:00 PT | Central Stadium, Yekaterinburg |
| 45 | England vs Belgium | 28 June | 11:00 PT | Kaliningrad Stadium, Kaliningrad |
| 46 | Panama vs Tunisia | 28 June | 11:00 PT | Mordovia Arena, Saransk |
| 47 | Japan vs Poland | 28 June | 07:00 PT | Volgograd Arena, Volgograd |
| 48 | Senegal vs Colombia | 28 June | 07:00 PT | Cosmos Arena, Samara |
| 49 | Winner Group A vs Runner-up Group B | 30 June | 07:00 PT | Kazan Arena, Kazan |
| 50 | Winner Group C vs Runner-up Group D | 30 June | 11:00 PT | Fisht Olympic Stadium, Sochi |
| 51 | Winner Group B vs Runner-up Group A | 1 July | 07:00 PT | Luzhniki Stadium, Moscow |
| 52 | Winner Group D vs Runner-up Group C | 1 July | 11:00 PT | Nizhny Novgorod Stadium |
| 53 | Winner Group E vs Runner-up Group F | 2 July | 07:00 PT | Cosmos Arena, Samara |
| 54 | Winner Group G vs Runner-up Group H | 2 July | 11:00 PT | Rostov Arena, Rostov-on-Don |
| 55 | Winner Group F vs Runner-up Group E | 3 July | 07:00 PT | Krestovsky Stadium |
| 56 | Winner Group H vs Runner-up Group G | 3 July | 11:00 PT | Otkrytiye Arena, Moscow |
| 57 | Winner Match 49 vs Winner Match 50 | 6 July | 07:00 PT | Nizhny Novgorod Stadium |
| 58 | Winner Match 53 vs Winner Match 54 | 6 July | 11:00 PT | Kazan Arena, Kazan |
| 59 | Winner Match 55 vs Winner Match 56 | 7 July | 07:00 PT | Cosmos Arena, Samara |
| 60 | Winner Match 51 vs Winner Match 52 | 7 July | 11:00 PT | Fisht Olympic Stadium, Sochi |
| 61 | Winner Match 57 vs Winner Match 58 | 10 July | 11:00 PT | Krestovsky Stadium, Saint Petersburg |
| 62 | Winner Match 59 vs Winner Match 60 | 11 July | 11:00 PT | Luzhniki Stadium, Moscow |
| 63 | Loser Match 61 vs Loser Match 62 | 14 July | 07:00 PT | Krestovsky Stadium, Saint Petersburg |
| 64 | Winner Match 61 vs Winner Match 62 | 15 July | 08:00 PT | Luzhniki Stadium, Moscow |