How to Buy Fifa World Cup 2018 Tickets:
Fifa world cup 2018 will be played in Russia. Everything is completed schedule, teams, venues, etc… if you want to watch Fifa world cup 2018 live then you have to buy 2018 world cup tickets. Fifa has decided that they sell 1,303,616 total tickets in two phases and every phase is divided into 2 stages. Sales of tickets were started in September 2017.
Phase 1:
The phase 1 1st stage was from September 14 to October 12, 2017. The 2nd stage of phase 1 was started on 16 November and ends on 28 November. In the first stage of getting the ticket, you just have the information of venues but you do not know which team is playing.
Fifa World Cup mascot wallpapers
Phase 2:
The special thing of phase 2 is fans will know which teams they are applying to see. The first stage of phase 2 was started from 5 December 2017 and ends on 31 January 2018. The 2nd stage of phase 2 was started from 13 March 2018 and ends on 3 April 2018. Policy for all phases and stages are first to come, first get.
There is one more phase "Last minute phase". This phase will start from 18 April 2018 and ends on 15 July 2018 (The final day of Fifa world cup 2018).
2018 Football World Cup Tickets Price: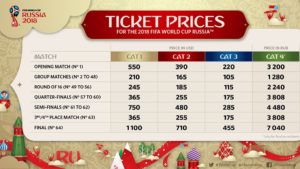 Fifa has made 4 categories of ticket prices for 2018 football world cup tickets.
Categories one, two and three will be available for international fans all around the world. They can buy online Fifa world cup 2018 tickets. Category 4 is only for local Russians. Fifa target is to sale 350,000 tickets to local Russians.
How to buy 2018 Fifa World Cup Ticket:
If you want to buy individually ticket then you can buy from Fifa website. But if you want many tickets or you are a company or organization then you have to purchase hospitality packages.
If you want to buy 2018 Football world cup ticket open Fifa world cup website and sign up there.
After creating account login to your account and submit an application for the ticket. To do so you have to follow some simple steps.
Select your country name.
Agree to the terms and conditions of purchasing and using the tickets.
Now select the ticket and set of tickets
Enter your personal information also enter the information of your guest if you are buying more then 1 tickets.
Now confirm your order.
How to Submit Ticket Application:
To get Fifa World Cup 2018 Tickets you have to fill a simple form.
First name and last name
Date of Birth
Citizenship
Passport number (If you have any child then enter his/her picture ID number)
Country of Residence
The ordering customer also has to specify how he will pay for the tickets, and provide
Additional Information:
The mailing address for ticket delivery.
Contact information (email, mobile and home phone numbers);
preferred language of correspondence.
Please fill the complete application with information which has to be verifiable any time to get Fifa World Cup 2018 Tickets. Do submit the ticket on time otherwise, they will reject your application. If you're buying a ticket in the Random Selection Draw phase, you can change your application all through the last day of this phase. During the First Come First Served phase and the Last Minute Sales phase, no such opportunity will be available.
Ticket purchase has to be confirmed by FIFA at any stage of the ticket sale: the association will send you a notification (by email, mail or hand-delivered) that the tickets were reserved for you.
Payment Methods For 2018 Football World Cup Tickets:
If you are buying tickets in the Visa per sale ticket period, Then you have to pay the money through Visa card. But if you are trying to get the ticket in random selection draw and first come first served sales phase then you can pay through both by VISA cards and other payment methods. If you are not living in Russia then you can pay through international bank transfer using a downloadable Ticket Application form In the last minute purchase ticketing phase you can pay cash on FIFA Ticketing Centers in the host cities and get your ticket.
One important thing keeps in mind if you are applying for tickets then you have to pay the ticket price through your own card. You can not use your friend's, spouse's or relative's card to pay the ticket price if you do so your ticket will be annulled and 20% of the ticket will be deducted and if the annulment takes place less than 48 hours prior to the game, there will be no refund at all.
Return and Ticket Cancellation Policy For Fifa World Cup:
Fifa did not allow you to exchange or return a ticket for any of the 2018 Russia world cup matches. If you can not come, your ticket will put for sale on FIFA's official platform but you can not sell it personally. Fifa makes this rule to stop the fake tickets sale to make the foolproof security.
If you violated any rule FIFA has full right to cancel your full ticket or partial ticket. Fifa will do it when someone submitted the fake information to purchase the ticket or submit the ticket application using the dummy information. If you break any rule in the stadium or near the stadium then Fifa has right to cancel your ticket. If the match will be canceled due to any reason then FIFA will refund your money but will never give you any other cost of travel or hotel expenses.
Football World Cup 2018 Russia Tickets Resale:
Transfer and resale of tickets are not allowed and it's against the Fifa rules. You can not donate or gift ticket to anyone. You can not offer the Fifa world cup 2018 tickets ate any auctions and lotteries without written permission from FIFA. If you do so the ticket will be automatically canceled. If someone caught breaking these rules Fifa will never allow you to enter the stadium and also cancel your other tickets. The ticket owner also risks a lawsuit from FIFA. Tickets can only be resold or transferred via FIFA's official platform. The football association will review each request for resale or transfer individually.