How To Build Your Custom Stadium In Dream League Soccer 2018
In dream league soccer 2018 you can quickly and easily create your own dream league soccer stadium. You can make your home stadium more stylish and beautiful. How to create your dream league soccer 2018 stadium to do so follow some simple steps. Check out more dream league soccer tips and tricks.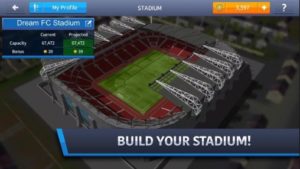 Step 1:
Open Dream League Soccer
Step 2:
Click on "My club"
Step 3:
Now click on "Dream FC Stadium"
Step 4:
Change the name of the stadium. To change the name of the stadium click on the current name of the stadium and change it.
Step 5:
To change the ground filed design choose your favorite design from the current screen.
Step 6:
To change the lateral standings click on side bleachers and select your favorite lateral standing option from side bleachers option.
Step 7:
You can change the corner of the stadium very easily y moving the arrow.
Step 8:
You can also change the goalkeeper behind easily by moving the arrow.
Step 9:
When you have done everything just click on confirm and then click on okay.
Step 10:
Here you go everything is done your new soccer stadium is ready.