PES Player Rating List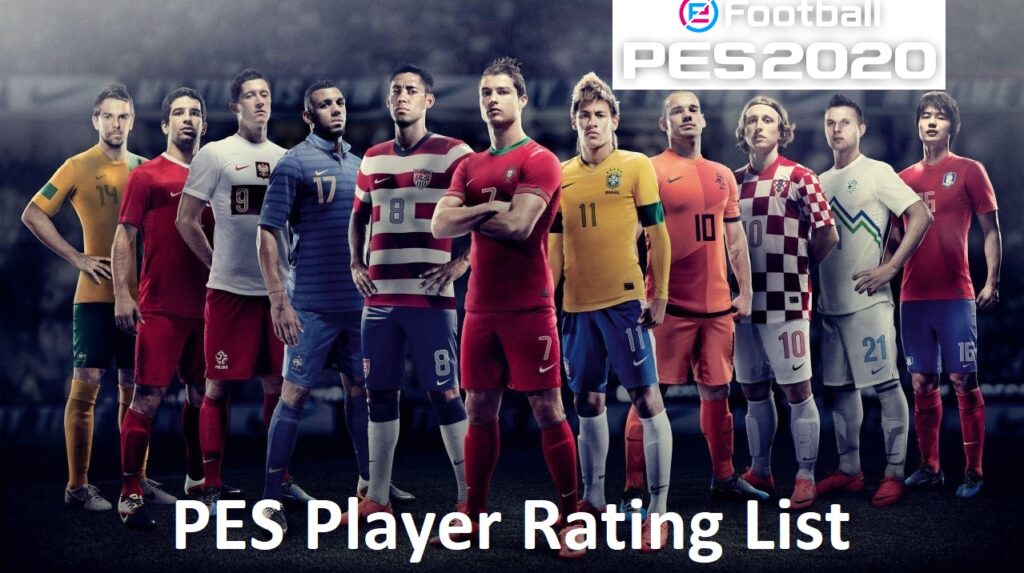 | Position | Player Name | Team Name | Nationality | Height | Weight | Age | Overall Rating |
| --- | --- | --- | --- | --- | --- | --- | --- |
| LWF | C. RONALDO | JUVENTUS | PORTUGAL | 187 | 83 | 34 | 94 |
| RWF | L. MESSI | FC BARCELONA | ARGENTINA | 170 | 72 | 32 | 94 |
| LWF | NEYMAR | PSG | BRAZIL | 175 | 68 | 27 | 92 |
| CF | S. AGÜERO | MANCHESTER B | ARGENTINA | 173 | 70 | 31 | 91 |
| CF | L. SUÁREZ | FC BARCELONA | URUGUAY | 182 | 86 | 32 | 91 |
| LWF | E. HAZARD | MADRID CHAMARTIN B | BELGIUM | 173 | 76 | 28 | 91 |
| CF | R. LEWANDOWSKI | FC BAYERN MÜNCHEN | POLAND | 185 | 79 | 31 | 91 |
| CB | V. VAN DIJK | LIVERPOOL R | NETHERLANDS | 193 | 92 | 28 | 91 |
| CB | SERGIO RAMOS | MADRID CHAMARTIN B | SPAIN | 184 | 82 | 33 | 90 |
| CB | PIQUÉ | FC BARCELONA | SPAIN | 194 | 85 | 32 | 90 |
| Position | Player Name | Team Name | Nationality | Height | Weight | Age | Overall Rating |
| --- | --- | --- | --- | --- | --- | --- | --- |
| GK | DAVID DE GEA | MANCHESTER UNITED | SPAIN | 193 | 82 | 29 | 90 |
| CF | A. GRIEZMANN | FC BARCELONA | FRANCE | 176 | 73 | 28 | 90 |
| GK | J. OBLAK | MADRID ROSAS RB | SLOVENIA | 188 | 87 | 26 | 90 |
| AMF | K. DE BRUYNE | MANCHESTER B | BELGIUM | 181 | 68 | 28 | 90 |
| CF | H. KANE | TOTTENHAM WB | ENGLAND | 188 | 76 | 26 | 90 |
| RWF | M. SALAH | LIVERPOOL R | EGYPT | 175 | 71 | 27 | 90 |
| LWF | S. MANÉ | LIVERPOOL R | SENEGAL | 175 | 69 | 27 | 90 |
| GK | ALISSON | LIVERPOOL R | BRAZIL | 191 | 91 | 27 | 90 |
| CF | K. MBAPPÉ | PSG | FRANCE | 178 | 73 | 21 | 90 |
| CF | K. BENZEMA | MADRID CHAMARTIN B | FRANCE | 185 | 81 | 32 | 89 |
| Position | Player Name | Team Name | Nationality | Height | Weight | Age | Overall Rating |
| --- | --- | --- | --- | --- | --- | --- | --- |
| GK | M. NEUER | FC BAYERN MÜNCHEN | GERMANY | 193 | 92 | 33 | 89 |
| CMF | L. MODRIĆ | MADRID CHAMARTIN B | CROATIA | 172 | 66 | 34 | 89 |
| DMF | BUSQUETS | FC BARCELONA | SPAIN | 189 | 76 | 31 | 89 |
| LWF | R. STERLING | MANCHESTER B | ENGLAND | 170 | 69 | 25 | 89 |
| GK | EDERSON | MANCHESTER B | BRAZIL | 188 | 86 | 26 | 89 |
| GK | M. TER STEGEN | FC BARCELONA | GERMANY | 187 | 85 | 27 | 89 |
| AMF | DAVID SILVA | MANCHESTER B | SPAIN | 173 | 67 | 33 | 88 |
| CF | E. CAVANI | PSG | URUGUAY | 184 | 71 | 32 | 88 |
| CMF | T. KROOS | MADRID CHAMARTIN B | GERMANY | 183 | 76 | 29 | 88 |
| CF | P. AUBAMEYANG | ARSENAL | GABON | 187 | 80 | 30 | 88 |
| Position | Player Name | Team Name | Nationality | Height | Weight | Age | Overall Rating |
| --- | --- | --- | --- | --- | --- | --- | --- |
| AMF | C. ERIKSEN | INTER | DENMARK | 180 | 71 | 27 | 88 |
| CMF | THIAGO | FC BAYERN MÜNCHEN | SPAIN | 174 | 70 | 28 | 88 |
| CMF | P. POGBA | MANCHESTER UNITED | FRANCE | 191 | 84 | 26 | 88 |
| CMF | N. KANTÉ | CHELSEA B | FRANCE | 168 | 68 | 28 | 88 |
| CB | K. KOULIBALY | NAPOLI | SENEGAL | 195 | 89 | 28 | 88 |
| RWF | BERNARDO SILVA | MANCHESTER B | PORTUGAL | 173 | 64 | 25 | 88 |
| GK | H. LLORIS | TOTTENHAM WB | FRANCE | 188 | 78 | 33 | 87 |
| CB | G. CHIELLINI | JUVENTUS | ITALY | 187 | 85 | 35 | 87 |
| GK | S. HANDANOVIČ | INTER | SLOVENIA | 193 | 89 | 35 | 87 |
| CB | D. GODÍN | INTER | URUGUAY | 187 | 78 | 33 | 87 |
| Position | Player Name | Team Name | Nationality | Height | Weight | Age | Overall Rating |
| --- | --- | --- | --- | --- | --- | --- | --- |
| RWF | G. BALE | MADRID CHAMARTIN B | WALES | 185 | 82 | 30 | 87 |
| CMF | I. RAKITIĆ | FC BARCELONA | CROATIA | 184 | 78 | 31 | 87 |
| RWF | Á. DI MARÍA | PSG | ARGENTINA | 180 | 75 | 31 | 87 |
| DMF | M. PJANIĆ | JUVENTUS | BOSNIA AND HERZEGOVINA | 178 | 72 | 29 | 87 |
| LB | JORDI ALBA | FC BARCELONA | SPAIN | 170 | 68 | 30 | 87 |
| CF | A. LACAZETTE | ARSENAL | FRANCE | 176 | 77 | 28 | 87 |
| CF | C. IMMOBILE | LAZIO | ITALY | 184 | 80 | 29 | 87 |
| LWF | P. COUTINHO | FC BAYERN MÜNCHEN | BRAZIL | 172 | 68 | 27 | 87 |
| DMF | CASEMIRO | MADRID CHAMARTIN B | BRAZIL | 185 | 84 | 27 | 87 |
| LWF | SON HEUNG-MIN | TOTTENHAM WB | REPUBLIC OF KOREA | 183 | 79 | 27 | 87 |
| Position | Player Name | Team Name | Nationality | Height | Weight | Age | Overall Rating |
| --- | --- | --- | --- | --- | --- | --- | --- |
| CB | R. VARANE | MADRID CHAMARTIN B | FRANCE | 191 | 81 | 26 | 87 |
| GK | T. COURTOIS | MADRID CHAMARTIN B | BELGIUM | 199 | 96 | 27 | 87 |
| AMF | M. REUS | Free Agents | GERMANY | 180 | 71 | 30 | 87 |
| CMF | M. VERRATTI | PSG | ITALY | 165 | 60 | 27 | 87 |
| CF | M. ICARDI | PSG | ARGENTINA | 181 | 75 | 26 | 87 |
| SS | P. DYBALA | JUVENTUS | ARGENTINA | 177 | 75 | 26 | 87 |
| CMF | SAÚL | MADRID ROSAS RB | SPAIN | 184 | 77 | 25 | 87 |
| CF | ROBERTO FIRMINO | LIVERPOOL R | BRAZIL | 181 | 76 | 28 | 87 |
| CMF | F. DE JONG | FC BARCELONA | NETHERLANDS | 180 | 68 | 22 | 87 |
| DMF | J. KIMMICH | FC BAYERN MÜNCHEN | GERMANY | 176 | 70 | 24 | 87 |
| Position | Player Name | Team Name | Nationality | Height | Weight | Age | Overall Rating |
| --- | --- | --- | --- | --- | --- | --- | --- |
| CB | M. ŠKRINIAR | INTER | SLOVAKIA | 188 | 80 | 24 | 87 |
| DMF | FERNANDINHO | MANCHESTER B | BRAZIL | 179 | 67 | 34 | 86 |
| CB | J. VERTONGHEN | TOTTENHAM WB | BELGIUM | 189 | 86 | 32 | 86 |
| LB | MARCELO | MADRID CHAMARTIN B | BRAZIL | 174 | 80 | 31 | 86 |
| CMF | A. VIDAL | FC BARCELONA | CHILE | 180 | 75 | 32 | 86 |
| CF | E. DŽEKO | ROMA | BOSNIA AND HERZEGOVINA | 193 | 80 | 33 | 86 |
| CMF | DANI PAREJO | VALENCIA BN | SPAIN | 182 | 73 | 30 | 86 |
| CB | T. ALDERWEIRELD | TOTTENHAM WB | BELGIUM | 186 | 91 | 30 | 86 |
| CB | THIAGO SILVA | PSG | BRAZIL | 183 | 79 | 35 | 86 |
| CF | R. LUKAKU | INTER | BELGIUM | 190 | 94 | 26 | 86 |
| Position | Player Name | Team Name | Nationality | Height | Weight | Age | Overall Rating |
| --- | --- | --- | --- | --- | --- | --- | --- |
| SS | T. MÜLLER | FC BAYERN MÜNCHEN | GERMANY | 186 | 75 | 30 | 86 |
| GK | W. SZCZĘSNY | JUVENTUS | POLAND | 195 | 90 | 29 | 86 |
| CMF | KOKE | MADRID ROSAS RB | SPAIN | 176 | 74 | 27 | 86 |
| LB | D. ALABA | FC BAYERN MÜNCHEN | AUSTRIA | 180 | 76 | 27 | 86 |
| AMF | J. RODRÍGUEZ | MADRID CHAMARTIN B | COLOMBIA | 180 | 75 | 28 | 86 |
| AMF | ISCO | MADRID CHAMARTIN B | SPAIN | 176 | 79 | 27 | 86 |
| GK | B. LENO | ARSENAL | GERMANY | 189 | 82 | 27 | 86 |
| CB | S. UMTITI | FC BARCELONA | FRANCE | 182 | 75 | 26 | 86 |
| CB | MARQUINHOS | PSG | BRAZIL | 183 | 75 | 25 | 86 |
| LWF | L. INSIGNE | NAPOLI | ITALY | 163 | 59 | 28 | 86 |
| Position | Player Name | Team Name | Nationality | Height | Weight | Age | Overall Rating |
| --- | --- | --- | --- | --- | --- | --- | --- |
| AMF | H. ZIYECH | AJAX | MOROCCO | 183 | 68 | 26 | 86 |
| GK | KEPA | CHELSEA B | SPAIN | 186 | 85 | 25 | 86 |
| CB | A. LAPORTE | MANCHESTER B | FRANCE | 191 | 86 | 25 | 86 |
| DMF | JORGINHO | CHELSEA B | ITALY | 180 | 67 | 28 | 86 |
| RWF | S. GNABRY | FC BAYERN MÜNCHEN | GERMANY | 175 | 75 | 24 | 86 |
| RWF | R. MAHREZ | MANCHESTER B | ALGERIA | 179 | 67 | 28 | 86 |
| DMF | FABINHO | LIVERPOOL R | BRAZIL | 188 | 78 | 26 | 86 |
| LWF | L. SANÉ | MANCHESTER B | GERMANY | 183 | 75 | 23 | 86 |
| CB | C. LENGLET | FC BARCELONA | FRANCE | 186 | 81 | 24 | 86 |
| CB | H. MAGUIRE | MANCHESTER UNITED | ENGLAND | 194 | 100 | 26 | 86 |
| Position | Player Name | Team Name | Nationality | Height | Weight | Age | Overall Rating |
| --- | --- | --- | --- | --- | --- | --- | --- |
| CMF | S. MILINKOVIĆ-SAVIĆ | LAZIO | SERBIA | 192 | 82 | 24 | 86 |
| LWF | O. DEMBÉLÉ | FC BARCELONA | FRANCE | 178 | 67 | 22 | 86 |
| CB | M. DE LIGT | JUVENTUS | NETHERLANDS | 188 | 89 | 20 | 86 |
| CF | T. WERNER | Free Agents | GERMANY | 180 | 75 | 23 | 86 |
| CF | Z. IBRAHIMOVIĆ | MILAN | SWEDEN | 195 | 95 | 38 | 85 |
| CMF | B. MATUIDI | JUVENTUS | FRANCE | 180 | 75 | 32 | 85 |
| CB | L. BONUCCI | JUVENTUS | ITALY | 190 | 85 | 32 | 85 |
| CF | G. HIGUAÍN | JUVENTUS | ARGENTINA | 184 | 82 | 32 | 85 |
| DMF | JAVI MARTÍNEZ | FC BAYERN MÜNCHEN | SPAIN | 190 | 81 | 31 | 85 |
| CB | DAVID LUIZ | ARSENAL | BRAZIL | 189 | 84 | 32 | 85 |
| Position | Player Name | Team Name | Nationality | Height | Weight | Age | Overall Rating |
| --- | --- | --- | --- | --- | --- | --- | --- |
| RB | AZPILICUETA | CHELSEA B | SPAIN | 178 | 78 | 30 | 85 |
| CB | SOKRATIS | ARSENAL | GREECE | 186 | 89 | 31 | 85 |
| LWF | A. SÁNCHEZ | INTER | CHILE | 169 | 62 | 31 | 85 |
| CF | DIEGO COSTA | MADRID ROSAS RB | SPAIN | 188 | 85 | 31 | 85 |
| DMF | A. WITSEL | Free Agents | BELGIUM | 186 | 73 | 30 | 85 |
| CMF | A. RAMSEY | JUVENTUS | WALES | 183 | 76 | 29 | 85 |
| AMF | M. ÖZIL | ARSENAL | GERMANY | 180 | 71 | 31 | 85 |
| RWF | WILLIAN | CHELSEA B | BRAZIL | 175 | 77 | 31 | 85 |
| GK | K. NAVAS | PSG | COSTA RICA | 185 | 80 | 33 | 85 |
| CF | D. MERTENS | NAPOLI | BELGIUM | 169 | 61 | 32 | 85 |
| Position | Player Name | Team Name | Nationality | Height | Weight | Age | Overall Rating |
| --- | --- | --- | --- | --- | --- | --- | --- |
| CB | K. MANOLAS | NAPOLI | GREECE | 189 | 83 | 28 | 85 |
| CB | J. BOATENG | FC BAYERN MÜNCHEN | GERMANY | 192 | 90 | 31 | 85 |
| RWF | DOUGLAS COSTA | JUVENTUS | BRAZIL | 172 | 70 | 29 | 85 |
| CB | S. DE VRIJ | INTER | NETHERLANDS | 189 | 78 | 27 | 85 |
| RB | K. WALKER | MANCHESTER B | ENGLAND | 183 | 83 | 29 | 85 |
| SS | A. GÓMEZ | ATALANTA | ARGENTINA | 165 | 68 | 31 | 85 |
| CF | MORATA | MADRID ROSAS RB | SPAIN | 189 | 85 | 27 | 85 |
| LB | ALEX SANDRO | JUVENTUS | BRAZIL | 180 | 80 | 28 | 85 |
| CMF | ALLAN | NAPOLI | BRAZIL | 175 | 74 | 28 | 85 |
| CMF | İ. GÜNDOĞAN | MANCHESTER B | GERMANY | 180 | 80 | 29 | 85 |
| Position | Player Name | Team Name | Nationality | Height | Weight | Age | Overall Rating |
| --- | --- | --- | --- | --- | --- | --- | --- |
| RMF | F. THAUVIN | OLYMPIQUE MARSEILLE | FRANCE | 179 | 70 | 26 | 85 |
| CF | IAGO ASPAS | VIGO AB | SPAIN | 176 | 67 | 32 | 85 |
| CF | M. DEPAY | OLYMPIQUE LYONNAIS | NETHERLANDS | 176 | 78 | 25 | 85 |
| CB | A. ROMAGNOLI | MILAN | ITALY | 188 | 78 | 24 | 85 |
| GK | J. PICKFORD | EVERTON B | ENGLAND | 185 | 77 | 25 | 85 |
| CB | J. STONES | MANCHESTER B | ENGLAND | 188 | 70 | 25 | 85 |
| RB | JOÃO CANCELO | MANCHESTER B | PORTUGAL | 182 | 74 | 25 | 85 |
| RB | CARVAJAL | MADRID CHAMARTIN B | SPAIN | 173 | 73 | 27 | 85 |
| CB | J. GIMÉNEZ | MADRID ROSAS RB | URUGUAY | 185 | 80 | 24 | 85 |
| AMF | N. FEKIR | SEVILLA TRIANA VB | FRANCE | 173 | 72 | 26 | 85 |
| Position | Player Name | Team Name | Nationality | Height | Weight | Age | Overall Rating |
| --- | --- | --- | --- | --- | --- | --- | --- |
| CF | D. ZAPATA | ATALANTA | COLOMBIA | 189 | 88 | 28 | 85 |
| CMF | L. GORETZKA | FC BAYERN MÜNCHEN | GERMANY | 189 | 79 | 24 | 85 |
| AMF | BRUNO FERNANDES | MANCHESTER UNITED | PORTUGAL | 179 | 75 | 25 | 85 |
| CMF | LUIS ALBERTO | LAZIO | SPAIN | 182 | 70 | 27 | 85 |
| CF | J. VARDY | LEICESTER B | ENGLAND | 179 | 74 | 32 | 85 |
| LB | A. ROBERTSON | LIVERPOOL R | SCOTLAND | 178 | 64 | 25 | 85 |
| CB | L. HERNANDEZ | FC BAYERN MÜNCHEN | FRANCE | 182 | 76 | 23 | 85 |
| CMF | ARTHUR | FC BARCELONA | BRAZIL | 171 | 73 | 23 | 85 |
| CF | GABRIEL JESUS | MANCHESTER B | BRAZIL | 175 | 73 | 22 | 85 |
| GK | G. DONNARUMMA | MILAN | ITALY | 196 | 76 | 20 | 85 |
| Position | Player Name | Team Name | Nationality | Height | Weight | Age | Overall Rating |
| --- | --- | --- | --- | --- | --- | --- | --- |
| LWF | MIKEL OYARZABAL | VASCO GIPUZKOA AB | SPAIN | 181 | 78 | 22 | 85 |
| DMF | RODRI | MANCHESTER B | SPAIN | 191 | 82 | 23 | 85 |
| RB | T. ALEXANDER-ARNOLD | LIVERPOOL R | ENGLAND | 175 | 69 | 21 | 85 |
| CB | N. SÜLE | FC BAYERN MÜNCHEN | GERMANY | 195 | 97 | 24 | 85 |
| GK | G. BUFFON | JUVENTUS | ITALY | 191 | 83 | 41 | 84 |
| CB | V. KOMPANY | ANDERLECHT | BELGIUM | 193 | 85 | 33 | 84 |
| GK | K. SCHMEICHEL | LEICESTER B | DENMARK | 189 | 89 | 33 | 84 |
| LWF | F. RIBÉRY | FIORENTINA | FRANCE | 170 | 72 | 36 | 84 |
| CMF | JOÃO MOUTINHO | WOLVERHAMPTON YB | PORTUGAL | 170 | 61 | 33 | 84 |
| CF | F. QUAGLIARELLA | SAMPDORIA | ITALY | 180 | 79 | 36 | 84 |
Pro Evolution Soccer Intro
Pes is a famous 3d soccer video game developed by Konami. It was first released in 1994 at that time its name was J-League Jikkyou Winning Eleven. J-League Jikkyou Winning Eleven was only available for the Japanese. In 1996 Konami changes its name to Goal Storm. This name remains only for 1 year because in 1997 they give it a new name ISS Pro.
ISS Pro remains from the 1997-2001 edition. Later in 2001 Konami gaming studio changes its name to Pro Evolution Soccer and in 2021 its name is efootball 2022. Konami annually releases a new edition of pes. In the beginning, it was only available for PS2 users. After a few years, they released it for other platforms like Xbox, Windows, IOS, and android.
Pes has millions of android, ios, windows, and other platform users. It has a 4.2-star rating on google play and the apple app store. If you want to play it on a mobile device then it's free for you but if you want it on your gaming pc or Xbox then you have to buy it. There are many leagues and tournaments available in PES. You can play a friendly match with your friends and family. Try different Pes formations while playing against your FnF.
It has also the option to play online with other users from all over the world. In pes 2022, they have updated the clubs and national team's uniforms. They have added many new players and some legendry players as iconic players. Team updated logos have added in the new edition. Many new managers are part of the pes 2021 player rating on the demand of the users. You may change the club kit as you can change the dream league soccer kits.
What is PES eFootball Player Rating
Pes player rating is a pes player database. Where they give a number rating to every player. Let me explain it with a very simple example. When we attempt tests or exams in the college or university then all teachers give us marks or grades on the basis of our exam performance. Then they sum all of our test marks and make an average of our marks and give us a grade like A, B, or C. This indicates our position in the class.
Pes DB
Same like this pes developers collect stats of every player then make an average of these stats and give a special pes player rating to every player. Pes DB rating is based on Ball Control, Dribbling, Kicking Power, Speed, etc. Pes player rating is in the numbers. They also assign a special player condition to every player. Pes player condition is in the English alphabet like A, B, or C.
Pes Player Ratings Explained
Pes players are also divided into 5 ball categories Pes black ballplayers, Pes gold ballplayers, Pes silver ballplayers, Pes bronze ballplayers, Pes white ballplayers. Pes White ball players list starts from 50 ratings and ends on 69 ratings. Pes bronze ball player's list starts from 70 and ended up on 74. Players between 75-79 are on Pes silver ball players list. Pes gold ball players list is based on players which have a rating between 80-84.
PES eFootball 2022 Database
Pes black ballplayer's list starts from 85 and ends at 100. In PES 2022 DB black ballplayers are the most demanded and valuable players. Everyone likes them and wants them on his/her team. So I suggest you to always try to make a squad with pes black ballplayers Like RONALDO, MESSI, NEYMAR, DAVID DE GEA, VAN DIJK, SALAH, etc. Because all these players are part of the blackball pes players list and every user wants to know Ronaldo pesdb 2022, Messi pesdb 2022, MBAPPE pes rating 2022, etc.